The Plaza Conservancy is a public benefit nonprofit corporation (EIN 92-3264672) organized to support the improvement and activation of Northern California's oldest public plaza. Plaza de Cesar Chavez is one of San Jose's 200+ parks and is managed by the San Jose Department of Parks, Recreation and Neighborhood Services.
The Plaza Conservancy is currently an all-volunteer organization spearheaded by park users and enthusiasts. In coordination with the City of San Jose, park neighbors and event producers, the Conservancy intends to encourage public use of Plaza de Cesar Chavez and enhance the experience for park visitors through restoration and stewardship, building and maintaining visitor amenities, commemorating history and creating new experiences for the entire community.
As discussions about master planning and improving the plaza—as well as the importance of events to downtown's post-pandemic recovery—the Conservancy seeks to advance ideas and projects to enable Plaza de Cesar Chavez achieve its potential while advocating for the interests of park users.
Why does Plaza de Cesar Chavez need special attention?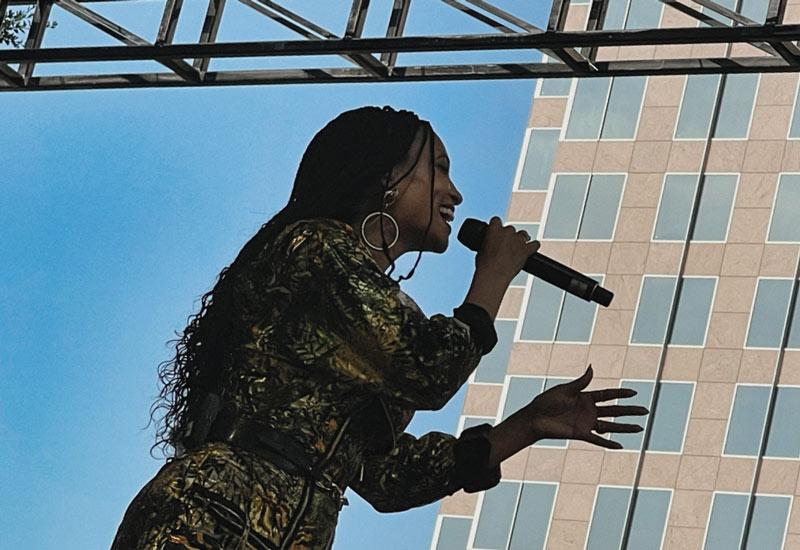 Plaza de Cesar Chavez has a unique historical role as Northern California's oldest public space, the location where the State of California was born, as the former site of San Jose City Hall and by association with California's most important civil rights leader's legacy in his hometown. The plaza also has social and economic importance to Downtown San Jose as a nexus for many of the city's most prominent and best attended annual events.
It is the venue for such high profile activations as Christmas in the Park, San Jose Jazz Summer Fest, Music in the Park, San Jose Fountain Blues & Brews Festival and SV Pride. The park is situated amidst many key amenities, including The Tech Interactive, Montgomery Theater, San Jose Civic, San Jose McEnery Convention Center, St. Joseph's Cathedral, San Jose Museum of Art and Silicon Valley's largest hotel, the Signia by Hilton San Jose. Or, more precisely, those venues exist because Plaza de Cesar Chavez was established as the city's plaza major in 1797. New projects adjacent to the plaza include 200 Park, a 19-story office tower; a planned 3.8 million square foot, six-tower development at City View Plaza; and The Sobrato Organization's Market Towers complex. Plaza de Cesar Chavez is connected to Google's Downtown West development via a recently improved Park Avenue and to San Jose State University and performing arts theaters to the East via Paseo de San Antonio.
What is a parks conservancy?
A parks conservancy is a community-based organization that typically raises money to support, improve and operate parks in partnership with local parks and recreation departments. These non-profit organizations are dedicated to the preservation, restoration and maintenance of parks, open spaces and recreational areas. Parks conservancies work to ensure that parks remain accessible and well-maintained for the public to enjoy. They often partner with local government agencies responsible for park management to support and supplement the work of public park staff. Parks conservancies engage in a range of activities to support the parks they serve, such as fundraising, volunteer management, advocacy and education. They may also take on specific projects, such as the construction of new amenities or the restoration of historical features within the park. In many cases, parks conservancies are involved in promoting sustainability and conservation efforts within the park, working to reduce waste, conserve resources and protect natural habitats. Parks conservancies play an important role in preserving and enhancing the quality of life in communities by ensuring that parks and open spaces remain beautiful, accessible and sustainable for generations to come.
Where have parks conservancies been successful?
The Plaza Conservancy draws upon the experiences and successes of other non-profit entities, both locally and in other cities. Among them are the Golden Gate National Parks Conservancy (San Francisco), Central Park Conservancy (NYC), Lincoln Park Conservancy (Chicago), Hermann Park Conservancy (Houston), Pease Park Conservancy (Austin) and Guadalupe River Park Conservancy (San Jose).
The Central Park Conservancy was formed in 1980 and serves as a public-private partnership for parks under a memorandum of understanding with the City of New York. The Central Park Conservancy reconstructs and repairs structures, removes graffiti and works on planning and restoration projects in addition to undertaking park management activities. While Central Park is and always will be a public park accessible to all, the Conservancy now raises 85% of Central Park's $40+ million annual operating budget and is responsible for all the park's basic care.
Golden Gate National Parks Conservancy has, since 1981, provided more than $450 million in support to the Golden Gate National Parks, enabled more than 250,000 volunteers to improve and operate the parks and pioneered park stewardship and education programs. The GGNPC has improved the profile and identity of the parks with a series of award-winning logo and poster designs by Bay Area graphic artist Michael Schwab.
Why are parks important?
Public parks are the settings for our shared experiences. They improve the quality of life for all San Joseans by providing spaces for social and civic engagement. By encouraging long-term investment in public space and strengthen the city's social fabric we become a stronger city.